I want to live in a hotel
11:00:00 PM
I set my expectations really high today and what a great feeling that they were met.

My day started pretty bad actually. We have a scheduled food tasting at Mariott Hotel Manila at 10 AM today and although I know where it is located, I don't even have the faintest idea of how to get my butt there. I decided to take the Jeepney up to Sucat and just take a cab all the way to the hotel. Genius right? Lesson learned: watch out for "NO JAY WALKING" signs. Scour the whole area first before alighting any public vehicle. Yep, I just got my 2ND ticket for not reading road signs/warnings.

It was already 9:30-ish AM and I don't want to be late so after paying the fine, I hailed a cab right away. But a shining Toyota Vios pulled up in front of me; it's for hire (when I think about it, I could have ended up somewhere in Cavite, naked and covered in newspaper, raped and lifeless!) 350 pesos fixed fare to the hotel. Fine! Plus toll. Fine! Just hurry the f up!

9:50 AM, I was already at the meeting room and thirty (or more) minutes later, Arkim and Len, together with Arkim's Mom and Aunt, finally arrived.

Meeting galore! I'm usually good at taking down notes, clarifying issues, giving suggestions, asking questions, etc. in a meeting, but I felt like a school girl in a PTA meeting. I've been reading A LOT about weddings since January of this year, but everything they were talking about felt surreal and pure gibberish; from the suppliers, table arrangement, bridal car, rooms, photographers, guests, the church, call time, everything!

One of my favorites that day was the food tasting of course! I promised myself that I'd put my taste buds to work and scrutinize everything that will be served. They served us with the green mussel soup and I was already blown away. I would never approve of it if I never tasted it because seafood soup just sounds so wrong (they also served the cream of cauliflower soup and I never thought it would taste like that). Four appetizers, four main entrees, and two plates of sweets! I didn't pay attention to the menu because, well, I was too busy eating! Everything was good though. I loved the beef and salmon. The chicken dish was familiar. I wasn't able to take any photos aside from the dessert.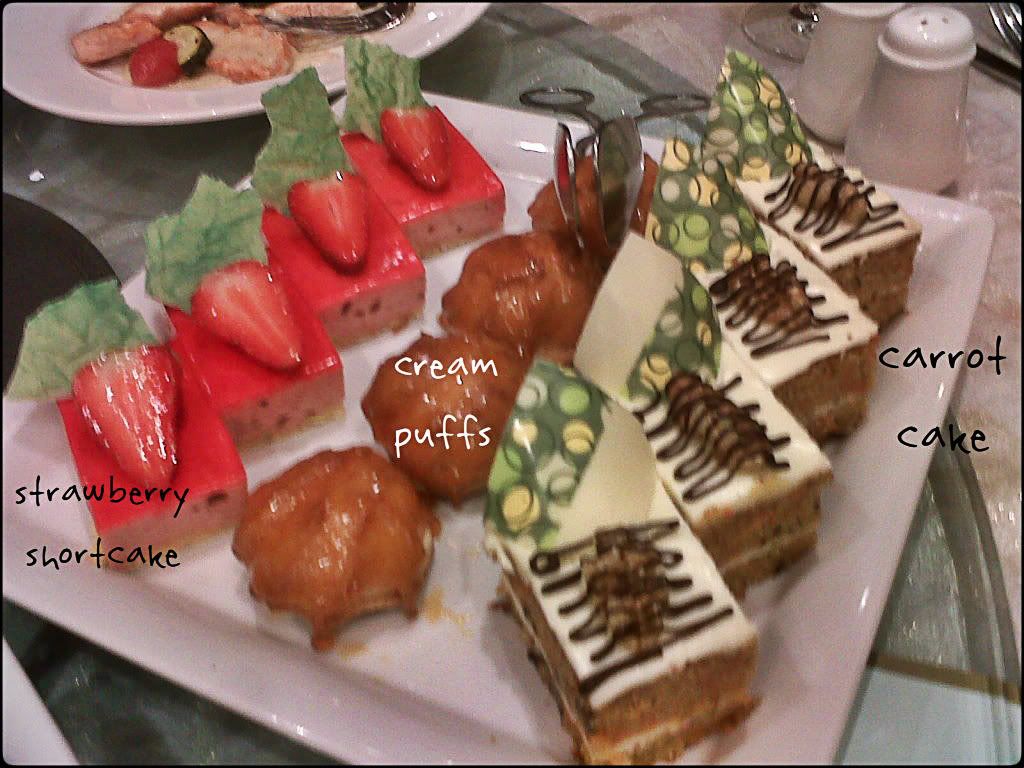 We then went to the rooms; we checked two, the deluxe and the suite. I'm very sure Julian will have a good time during our stay there in December. I was running out of battery so I couldn't snap photos of the rooms or the Garden Room.
Here's a photo of the suite. How I wish our bedroom's like this!
Photo from: Weddings
I'm sure there are photos of the Garden Rooms on the net. It took us a while figuring out how everything will be set up because the layout of the three rooms is really a challenge. Good thing we had two architects with us (Arkim and his friend, Wilson). We went to the Ballroom afterwards, to check if it's a better venue but after finding out that it wasn't as secluded (The Casino and the Ballroom share the same hallway and we don't want the guests running into random people going to and fro the Casino) as the Garden room, we decided to stick to the latter.
Next stop was Starbucks. They'll be serving coffee in place of the photo booth. If I remember it right, it will be stationed in one of the foyers while people wait to be ushered into the reception hall. We didn't have to travel far!
It was my first time at Republiq and the place was uh-mazing! There were a lot of pretty girls in tiny dresses and pointed shoes scattered in the area.
I also had my first cup of coffee in seven months!