Feather Awardees for March 2012
11:00:00 PM
If I listened to sir Ryan right, the Feather Award is HR's attempt to regulate awards given by different channels (or departments) to their members. I'm still not sure about the details of each category (we have the blue, silver, green, and gold--for line leads), but it's to recognize employees "that exceed expectations" in terms of quality, quantity, and attendance. Every month, employees who reach the specified grade or score will be chosen from the team level and then the channel level. The channel level award recipients get a token (plus a certificate). I'm not sure what happens after that!

It's A-Plus' first attempt at the awards, sort of a dry-run because measuring instructors' performance can be really tricky!


L-R: Sir Ryan Teves (OM), Andrew Amit, Joe Miranda, Me, Jen Agorilla, Katreena Panganiban, Carla Salalac (TL)
For the month of March, here are the Feather Awardees!
L-R: Sir Ryan, Sir Noel (from ER), and Me!
Aside from the certificate and recognition, I'm just happy I got the TOKEN!
Silver and Blue Feather Awardee, Joe Miranda
With Sir Ryan and Sir Noel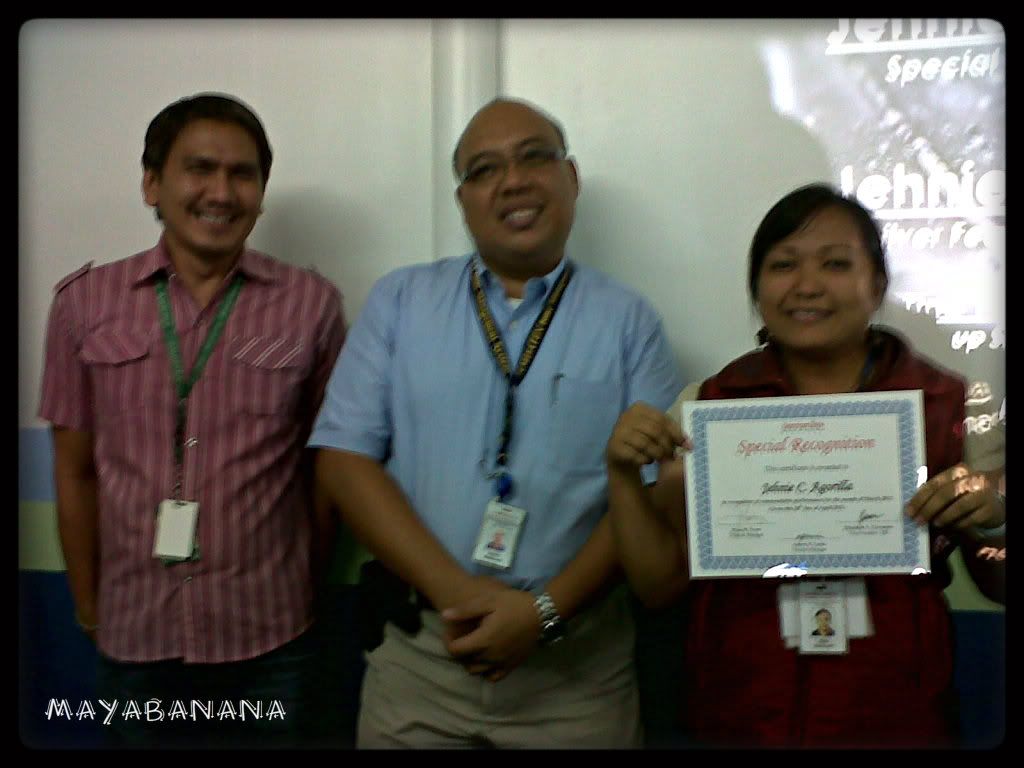 Special Recognition and Silver Feather Awardee, Jehnie Agorilla
Blue feather award recipients:
Team level: Maya de Castro
Channel level: Maya de Castro
Silver feather award recipients:
1st runner up: Jehnie Agorilla
Team level: Joe Miranda
Special recognition: Jehnie Agorilla
Congratulations to all the awardees! Until next month's awarding!